Growth Impact Plan
The companies that we work with have leadership teams that tend to fall into one of three groups:
Relying on the structure of a plan to grow their business (10%)
Taking action and build on that to grow (75%)
Underestimating how much growth is achievable (15%)
How do you know which group you are in?
You may be one of the people that jump up and down and can't wait to get started (10%). You may be one of the people who recognize how important a strategy for the company is and just don't prioritize using it as a tool (75%). You may be one of the people that have and utilize a strategy already, yet you want more than what it's been able to do for you (15%).
Most of us have a plan. Of those of you that do, it may be in the form of an idea (10%), it may be written and unused (75%), or it may wrapped up and tied with a big red bow much sooner than planned (15%).
In the end, it's up to you to get to the finish line, to reach your goals. You have a responsibility to use the plans you've made to actually achieve.
Having the structure of a goal, how to know what actions move you toward your goals, and making challenging yet realistic growth targets are the three elements inside of a clear growth strategy.
Sustaining Your Business, $1,599
You have a business that fulfills all your needs and wants. You have a team of reports that is doing good work, clients are happy, and more clients are readily coming to you.
Being able to adapt to create a sustainable business that finds and assesses problems and opportunities quickly is necessary for business today. Technology change, customer need changes, and your product's relevance tend to be taken for granted in companies that are in a sustain mode. You don't have to be taken by surprise – you can anticipate change and meet it as it happens with a clear plan.
Scaling Your Business, $1,599
Your business is growing, and you want it to continue to grow. This growth can be in revenue, people, infrastructure…usually a combination of all three.
Adaptability is something you rely on, yet the path forward may be unclear. Working from the plans you made, where your business is right now, and where you want the business to be in the future. A plan is created that creates a direction and what is on and off the path you've chosen to ensure your decisions keep you on your growth path.
Start Planning For Your Business, $1,599
Maybe you've never had a plan, or the strategy you started with didn't work the way you wanted it to. Or, things were changing so fast the plan you created was out of date quickly. So you didn't revise, you fly by the seat of your pants.
Having a direction for your business is necessary. It allows you to more quickly evaluate what you are doing and how you are doing it. A plan provides for you to make decisions about what can be done with the skills and capacity you and your team have. Focusing in on a goal proves a path with known edges that can be defined and sculpted over time. Having focus and knowing what to put your attention on will change the results you've been getting.
What is a Growth Impact Plan?
This is a fancy word for a plan. It's more than just a plan though, your Growth Impact Plan is a visionary plan that looks beyond the next quarter, beyond the next year…it looks at 3-5 years or more down the road. It is clear enough to set the stage to use past research, actual results, and what you've learned to better focus in on a direction, discern what's on and off the path, and prioritize actions to move forward with positive results. We use the benefits of having a plan that has a clear shape, the action necessary to be successful, all the while staying true to the reasons your business exists.
How we work together makes the difference.
You will answer some in depth questions that shape our time together.
You attend an intensive half-day retreat.
You will receive notes from Strategy Plan session for you to use.
The half-day retreat is customized to your specific needs.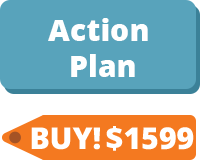 You will complete the retreat knowing:
How to best leverage your time and energy.
Where you have weaknesses, where you have strengths, where you have blindspots.
How you will measure success.
That you have a clear path and concrete next steps.